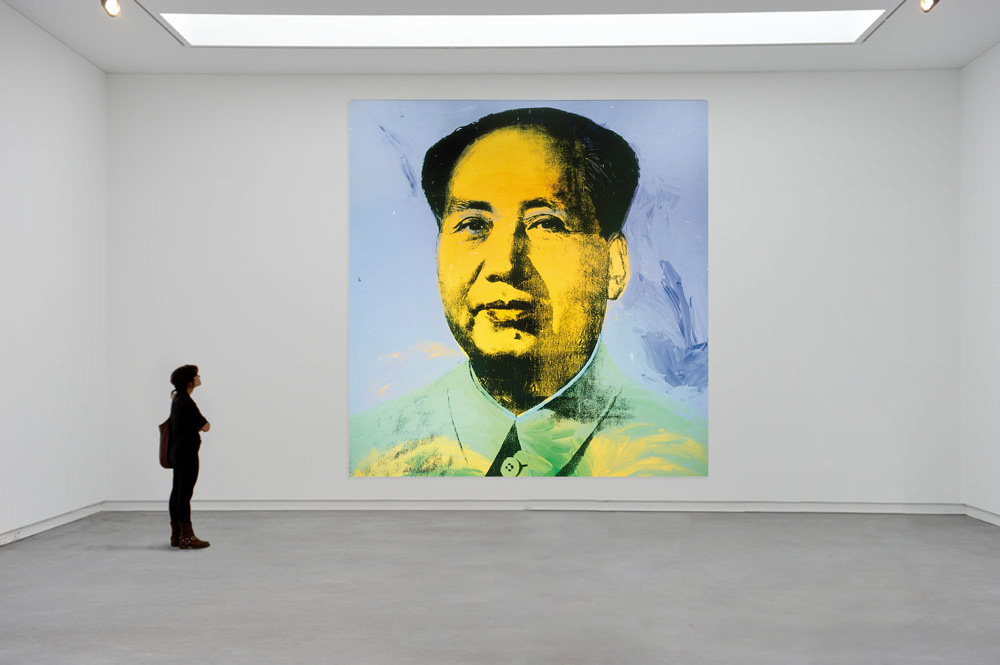 Proscriptive and Prescriptive Censorship: Mao Zedong Meets Macklemore
By Crispin Sartwell
The career of the painter Wang Guodong, who died on August 23, is an emblem of the danger, and also the silliness, presented to and by the arts under thorough regimes of censorship. Both aspects are driven by the theory that to control the images and words that people see is to control their opinions, and indeed their identity and consciousness. The contemporary Chinese, and we ourselves, might want to think more realistically about that.
Mr. Wang was responsible for the most familiar image of Mao Zedong, which was commissioned in 1964 and a version of which still occupies the "Gate of Heavenly Peace" overlooking Tiananmen Square (the painting is replaced annually with a fresh version). It has been reproduced all over China, and indeed all over the world for decades. Andy Warhol's famous appropriation of it in a series of silkscreens has a playful and colorful quality that is just the opposite of august sobriety and dignity that Mr. Wang sought to convey.
Totalitarian political systems practice proscriptive censorship and iconoclasm, in which unauthorized images and texts are altered or destroyed. And they practice prescriptive  censorship, in which particular images - often the countenance of the leader, but also various patriotic symbols and positive portrayals of life under the regime - are reproduced everywhere, under coercion. Such systems not only feature bonfires of prohibited materials, but also aesthetic production facilities and display practices. They not only try to prohibit you from saying various things, they require you to say certain others.
During the Cultural Revolution, Mr. Wang - like many others, and despite his aesthetic service to the party and the state - was denounced as a bourgeois, capitalist reactionary. One of the grounds for this was the fact that his portrait had Mao's head slightly turned, so that only one ear was visible (quite typical in portraiture, of course). The young social justice warriors who denounced him claimed that Mr. Wang was conveying the message that Mao did not listen to all of his people. They bundled him off to re-education camp, despite the fact that, as Mr. Wang said, "How many ears I painted was not up to me. It was prescribed by the central government."
At least the cultural revolutionaries never got their hands on Andy Warhol.
In his essay "The Power of the Powerless," written when he was a dissident playwright in Czechoslovakia, Vaclav Havel considers a greengrocer who posts a sign with Marx's slogan "Workers of the world, unite!" He is not expressing commitment to Marxist ideals, writes Havel, but rather that "I, the greengrocer XY, live here and I know what I must do. I behave in the manner expected of me. I am obedient and therefore I have the right to be left in peace."
Though cultural revolutionaries and even Mao himself may have believed that seeing his countenance everywhere would inspire and unite the Chinese people, the response was just as likely to be an exhausted acquiescence. That, as much as anything, is what that portrait means. Or in some ways it is impossible to know how it was actually experienced, or what meanings it really conveyed, as the state is inviting everyone into a simulated, or merely representational environment. Who is actually enthusiastic and who is simulating enthusiasm then becomes an unanswerable question, which means that everyone is under suspicion.
Enforcing a symbolic regime changes people's consciousness alright, but perhaps merely to boredom or irritation, or perhaps to inward rebellion. People don't just come to believe what they're told or absorb images as they're intended to do: they roll their eyes inwardly, or they stop hearing what you're saying (again) at all. And then the new icons you've created are likely to be pulled down in the counter-revolution, as the portraits of dictators all over the world have been converted into effigies and burned as the dictator falls.
The censorship regime can be imposed by the state, or (as to some extent was true in the Cultural Revolution) can arise from a wave of popular fanaticism that focuses on controlling all the pictures and songs and signs. As the rapper Macklemore apologizes for his former haircut (which apparently has gotten popular among white supremacists) or Nike withdraws shoes featuring the Betsy Ross thirteen-star flag, it is worth thinking anew about whether anyone can realize a set of political goals by controlling the symbols, and whether it's a decent thing to try.
Crispin Sartwell teaches philosophy at Dickinson College in Carlisle, PA. His books include Political Aesthetics.